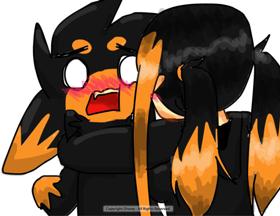 http://disney.go.com/create/artists/ROTTWEILERCAKE
Hello! This is ROTTWEILERCAKE's page (to be obvious). ROTTWEILERCAKE is one of those weird artists that stands out. Her style comes from a deviant named 0Shiny0. Shiny calls it fari, but RWC prefers to call them "Hairy Things". If you look on her user page, there is a video of a flipnote. Yes, she made it. Flipnote Hatena is where she got her style. The characters she used in it were a few fursonas of her friends, Milkshakes (the pikachu) Snowball (the white and grey cat) Shadow (the black cat) Poochy (the rottweiler) and Mr.Whiskers (the orange cat with red eyes).
About RWC
She loves vocaloid
She likes fast food
She gets too much work at school lol
She loves to draw!
She draws Hairy Things, chibi, and anime
She LOVES it when she gets fan art
She doesn't like people saying bad stuff about her behind her back
She hates people that try to be too funny and make other people look boring
SHE LOVES CAPITAL LETTERS
AppearanceEdit
THE THINNEST BROWN HAIR
Brown eyes
Tanned skin
Red nose XD
Large eyebrows
Somwhat hairy arms 0w0
Has six flat abs XD
REALLY REALLY MEATY THIGHS
FREAKING LONG NAILS
Has many scars on her skin because of her cat, or because she scratched herself by accident XD
Community content is available under
CC-BY-SA
unless otherwise noted.